Cuba
Visit by top legislator an important hallmark in Việt Nam-Cuba ties: ambassador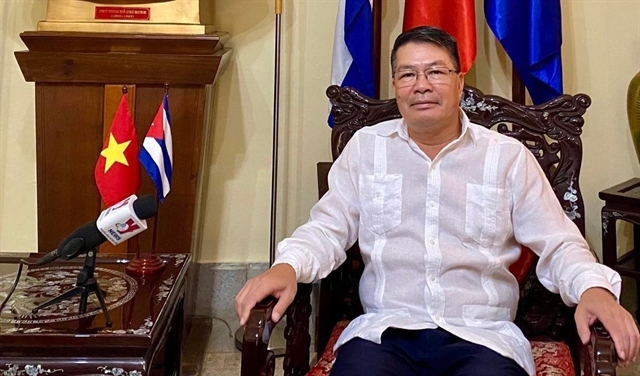 Vietnamese Ambassador to Cuba Lê Thanh Tùng. — VNA/VNS Photo
NA Chairman Huệ's trip to Cuba is the highest level by Vietnamese Party and State leaders in 2023.
HAVANA — The official visit to Cuba from April 18-23 by National Assembly (NA) Chairman Vương Đình Huệ will be an important contribution to strengthening, consolidating, expanding and deepening the bilateral relations in all fields, said Vietnamese Ambassador to Cuba Lê Thanh Tùng.
In an interview granted to the Vietnam News Agency on the threshold of the visit, Tùng said that the visit would take place at a special time for Cuba as it successfully organised the election of legislators to its National Assembly of People's Power on March 26, on the 60th founding anniversary of the Cuban Committee for Solidarity with South Việt Nam, and the 50th anniversary of the first visit to Việt Nam by the leader of the Cuban Revolution, Commander in Chief Fidel Castro Ruz.
NA Chairman Huệ's trip to Cuba is the highest level by Vietnamese Party and State leaders in 2023. This is also the longest and will have the largest number of official activities, with more than 40 covering all aspects, from politics and diplomacy to economy, trade, investment and many others.
This trip would be a particularly important mark in the good relationship between Việt Nam and Cuba, stressed Tùng.
NA Chairman Huệ would also be the first foreign high-ranking leader to speak at the plenum of the Cuban National Assembly of People's Power, particularly a special session to establish a new National Assembly. «This demonstrates the fraternal solidarity, comprehensive cooperation and mutual trust between the Party, State and people of the two countries,» he said.
During his stay, the top legislator of Việt Nam will hold talks and meet with top leaders of the Cuban Party and State. He will also pay a visit to Cuban revolution leader General Raúl Castro Ruz.
He is scheduled to attend a bilateral business forum and events to launch Việt Nam's cooperation and investment projects at Mariel special development zone and have meetings with representatives from several Cuban associations.
A lot of cooperation agreements, plans and programmes between the two sides would be signed during this visit, Tùng said.
On this occasion, the two sides are expected to ink an agreement on inter-parliamentary collaboration, which will help lift the two parliaments' relations to a new height with specific programmes, plans and targets of action.
The diplomat said Vietnamese businesses were paying more and more attention to the Cuban market, although it was now still under blockade. The increasing number of investment projects between the two countries in recent years was a testament to the continuous development of bilateral comprehensive cooperation based on fraternal friendship and mutual trust between the two countries' leaders and peoples.
Beyond protocol
Also, in an interview granted to the Vietnam News Agency, Dr Ruvislei González Saez, Vice President of the Cuba-Việt Nam Friendship Association, said that the visit would go beyond traditional protocol and receive attention from high-ranking leaders in the Caribbean nation.
For Cuba, welcoming a high-level leader from Việt Nam in Havana would not only be a political-diplomatic protocol but also a reunion between brothers, said the expert who is also Director of the Sectorial Programme of the International Relations in Cuba.
NA Chairman Huệ's visit is the fourth to Cuba by a top Vietnamese legislator in the 21st century.
He said that close and regular dialogues between the two parties and governments had created conditions for the two sides to strengthen mutual trust and understanding and share their experience in addressing challenges in the context of complicated world development and regional situation.
The mutual trust between Cuba and Việt Nam, nurtured by Cuban revolutionary leader Fidel Castro and President Hồ Chí Minh, had enabled the two countries to maintain a common stance at bilateral and multilateral forums and support each other during the most difficult times.
According to the expert, although political and diplomatic relations between Cuba and Việt Nam have always been at the highest level, there remains a big room for the two sides to expand further cooperation with new mechanisms, especially economic, trade, and investment connections.
With its increasing presence in the Latin American and Caribbean regions, Việt Nam needs to have more knowledge about the regions to promote economic interests.
Meanwhile, Saez said that Cuba could serve as a bridge to help Việt Nam through diverse economic agreements within the framework of the Latin American Integration Association (ALADI) or the Caribbean Community (CARICOM).
Việt Nam could also be a bridge for Cuba to connect with the Association of Southeast Asian Nations (ASEAN).
Thanks to Việt Nam's role as the ASEAN Chair in 2020 and the support of many other countries, Cuba became a member of the Treaty of Amity and Cooperation in Southeast Asia (TAC) in 2020, he went on.
Furthermore, Cuba and Việt Nam could also step up cooperation in specific fields such as health care, biotechnology, environmental protection, tourism, customs services, public administration, socio-culture, and legal and academic issues; and enhance the twinning relationship between localities, González Saez said, adding that Cuba could learn from Việt Nam's experience in developing a socialist-oriented market economy.
Regarding bilateral cooperation during the COVID-19 pandemic, he mentioned the great potential for the two sides to boost cooperation in biotechnology and research on prevention and treatment protocols, saying that Cuba had successfully controlled the pandemic and was willing to share its experience with Việt Nam. — VNS
First published at https://vietnamnews.vn/politics-laws/1521342/visit-by-top-legislator-an-important-hallmark-in-viet-nam-cuba-ties-ambassador.html